In the Media
The world's current fascination with all things vampire is good news for California author L.J. Smith, whose gothic output includes The Vampire Diaries and the Night World series of novels.
Where do you draw inspiration from ?
I'm not sure where I find inspiration for my characters, especially my bad boys. Maybe they come from a part of my unconscious. I love bad boys best, and Gabriel is a prime example. I wanted to do a vampire that didn't suck blood, but took energy directly. He was fun to write.
Have vampires changed over time?
Well, if you go back to the first vampire, Dracula by Bram Stoker, he was cruel and evil and not really very romantic. I think that over time vampires have become romanticized, and each writer adds little rules for their own special vampires.
How long does it take to write one of your books?
Well, I wrote the first three Vampire Diaries books in nine months. Just three months for each book. But those were short books, and today I write 600-page books. Now it takes me at least six or seven months per book. /// READ ORIGINAL INTERVIEW HERE @ Metro >>
Petitions launched by fans of supernatural series The Secret Circlehave amassed over 60,000 signatures.
The witch-based drama, based on the novels by L.J Smith who also wrote The Vampire Diaries series of books, was cancelled by The CW in America earlier this month. The Secret Circle was widely expected to be renewed because of its consistent performance across its first season. The CW opted to renew action drama Nikita and freshmen drama Hart of Dixie instead surprising many. /// Read more ATVTODAY >>
Barnes & Noble Announces The Awakening from L. J. Smith's The Vampire Diaries Series As the Latest Spotlight Pick
NOOK Bookstore(TM) Will Offer The Awakening for Only 99 Cents for a Limited Time
NEW YORK, May 31, 2012 (BUSINESS WIRE) -- Barnes & Noble, Inc. BKS +0.37% , the leading retailer of content, digital media and educational products, today announced that The Awakening, from L. J. Smith's The Vampire Diaries series, will be featured as the latest pick for "Barnes & Noble Spotlight" ( www.bn.com/spotlight ), a NOOK Book(TM) program that features great writers at irresistible prices. Twice a month, Barnes & Noble Spotlight picks an author of a popular or breakout series from various genres and offers it at a special price, helping NOOK(R) readers discover new authors and dive into an exciting series for a wallet-friendly price. From June 2 through June 15, Barnes & Noble's NOOK Bookstore will offer The Awakening, from the best selling The Vampire Diaries series, for only 99 cents.
The Awakening centers on a beautiful and popular high school student, Elena Gilbert, as she enters her senior year. When a new foreign student, Stefan Salvatore, moves to town, Elena finds herself drawn to him. However, Elena doesn't know that Stefan has a dark secret; he is a centuries-old vampire. As Elena and Stefan fall for each other, mysterious attacks begin to happen around town. Stefan suspects his revenge seeking brother, Damon, is behind the attacks as he returned to town when they began. The Awakening is the first book in the first trilogy of The Vampire Diaries novels. Throughout the trilogy, Elena learns the danger of being desired by the Salvatore brothers, while facing the reality of having vampires in her life. READ MORE WALL STREET JOURNAL >>>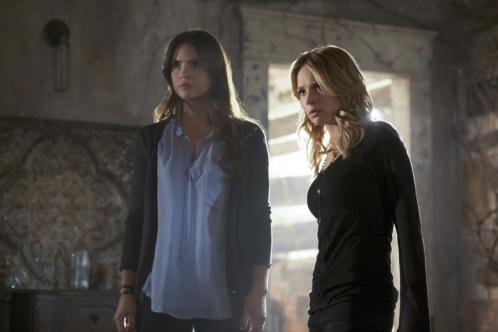 Is John Blackwell good or evil?
How will Diana react to the startling admission made by Charles last week? And how is conjuring up a hot pizza delivery guy ever a bad thing?
With The Secret Circle season finale just over 48 hours away, I just got off the phone with Executive Producer Andrew Miller. He answered a number of these questions, while going back over the season as a whole and explaining why Thursday's episode is titled "Family." /// Read on for excerpts from the Q&A. Read more TV Fanatic >>