Blogs from 2012
UNBELIEVABLE!
I've been sick for several days (sorry to anybody I was snippy to on Forum—I feel like you-know-what.) But then I saw this article on CNN.com: http://www.cnn.com/2012/01/31/world/asia/afghanistan-strangulation/index.html, that is about a man who, with the help of his mother, beat and strangled his wife, Storay Mohammed, for bearing him a daughter rather than a son. The cowardly guy is on the run but he left Mom behind to take the heat . . . and to say, unbelievably, that her son had not committed any crime, but that Storay, feeling guilty for being unable to give her husband a son had committed suicide. Hands up, everyone that knows of a woman who has strangled (not hanged) and beaten herself to death. (Squinting blearily.) No, I didn't think many people would have heard of that one.
I'm going to give more to Amnesty International this year, and I'm going to research some organizations where women help other women. I saw a bit of a clip on this story and a representative from an Afghani women's group was saying that while it is better now than under the Taliban, that Afghanistan is still one of the worst places, if not the worst place, to be a woman. Horia Mosadiq, a London-based Afghan researcher for Amnesty International, said the abuse inflicted on Storay Mohammed is not an isolated instance.
That means there are other women out there being killed because their husband didn't make a little boy instead of a girl inside them. (It's the man's sperm, not the woman's egg, that determines the sex of a child.)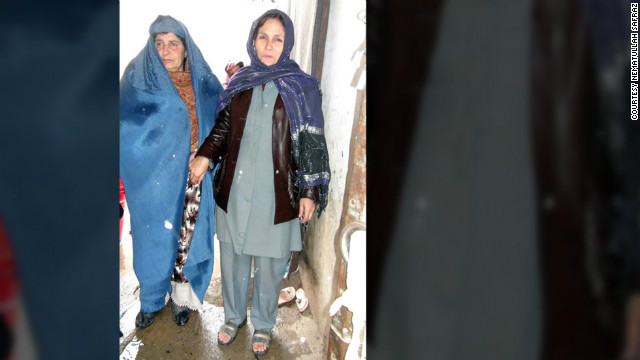 And, God, I just cannot get this horrible murder out of my mind. I keep wondering how the baby in question will grow up—if she grows up at all. (I hope and pray they didn't give her to any of the murderer's relatives to be cared for.)
I also keep thinking of the Pulitzer Prize winning book THE GOOD EARTH by Pearl S. Buck, in which the main character, O-lan, a poor woman so beaten down by life in general that I can't remember if she was beaten by her husband or not—how one day O-lan worked in the fields all morning, went inside in the afternoon alone, had a baby, and returned to her husband ashamed saying, "It was only a slave this time—not worth mentioning." (Chapter Seven.) Nine months of pregnancy—and the result? A girl and therefore a slave and not even worth having a conversation about. This is not one of those books that cheers you up at night.
Then what does my mind jump to? You know what the Japanese character for wife is? The character for "woman" plus that for "slave."
How did we ever come to this? How did half the human race become slaves in so many places? Of course, THE GOOD EARTH was published in 1931, almost a century ago. The Nineteenth Amendment to the Constitution of the good ol' USA had only been made in 1920. (That was the one that said: "The right of citizens of the United States to vote shall not be denied or abridged by the United States or by any State on account of sex," in case you don't remember.) Since then, on a relative basis some countries have achieved wonders—but even they still have a long, long way to go (If you don't think so, check out another currently breaking story, about "Mark Berndt, 61, [who] worked as a third-grade teacher at Miramonte Elementary School [in Los Angeles, CA] for more than 30 years. He was arrested at his home in Torrance on Monday, and on Tuesday, he was charged with 23 felony counts of lewd acts upon a child—[he did a bunch of things I won't talk about to a bunch of little girls.]) I don't mean any disrespect here to boys who have been molested, either—maybe I'll do a blog on them, next.
But I'll bet you that there is no country where the character for "husband" is "man" plus "slave" And right now in modern Afghanistan a modern man can connive with his own mother to beat and kill his wife for having a slave instead of a son, and it's not an isolated incidence.
The final little prickle in this chiller of a story is that they beat the poor woman, Storay, before killing her. Why? Just to increase her agony? To prolong their enjoyment? It certainly couldn't have fed into the suicide theory. Were they expecting any investigation by police? Or, if this story hadn't caught the eye of the international media . . . would the killer have quietly passed Go without anyone trying to jail him at all?